Vladimir Nabokov wanted The Original of Laura manuscript – written on 138 index cards – burnt. But how binding are authors' deathbed decrees?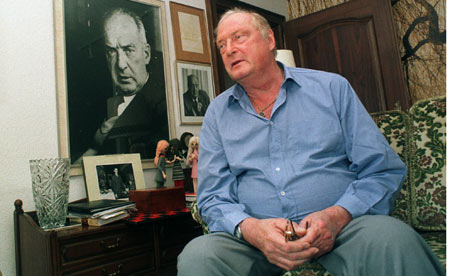 What posthumous control should an author retain over his or her work? This old question goes back to Virgil, who asked that the unfinished Aeneid should be destroyed on his decease. (It was the emperor Augustus who intervened to save it for posterity.)
The issue cropped up again when Kafka asked his friend, Max Brod, to burn a collection of manuscripts, which happened to include the novels we know as The Trial and The Castle, after his death. Fortunately, Brod found reasons to ignore the request.
This subject will recur once more in the next few days when Penguin Classics (and Knopf in the US) publish a facsimile edition of The Original of Laura, Vladimir Nabokov's unfinished 18th novel, a manuscript (on 138 index cards) which he stipulated should be destroyed after his death.
Related to this, and far more trivial, is the control Roald Dahl sought to exert over the exploitation of his children's books. For instance, he opposed any Americanisation of his work, and would doubtless have had a fit if he could have seen Wes Anderson's adaptation of Fantastic Mr Fox.
Anyway, there's a ziggurat of comment towering over the question of authorial intentions. In Nabokov's case, the question is complicated by his genius. For many people the author of Pale Fire (1962) and Lolita (1955) is one of – perhaps the sole – literary giants of the 20th century. Everything he wrote is somehow sacred.
The matter is also complicated, no doubt, by the commercial value of any Nabokov publication. Burning the index cards on which The Original of Laura was written would be like setting fire to a suitcase full of $1,000 bills.
When this subject was last aired in the British press, there were two points of view. Tom Stoppard said, unsentimentally, that, "It's perfectly straightforward: Nabokov wanted it burnt, so burn it." John Banville, in disagreement, wrote that, "The question of whether or not to follow an author's wishes regarding the fate of his work after his death is a difficult and painful one."
Between these two poles of opinion, any number of comments have ensued from readers "conflicted", as some have put it, by Nabokov's deathbed injunction.
His son Dmitri, who runs the Nabokov estate, has had the greatest burden. As he writes in his Introduction to The Original of Laura: "When the task passed to me [on his mother's death] I did a great deal of thinking … I decided that, in putative retrospect, Nabokov would not have wanted me to allow [the manuscript] to burn like a latter-day Jeanne d'Arc."
So here it is: simultaneous worldwide publication on 17 November, but strictly under embargo until that date.
My own view is that Nabokov was entitled to make the request, and that he was not deviously asking his wife and son to burn the novel while secretly hoping that they would ignore him. On the other hand, since the manuscript has survived, I think his son is entitled, though not obliged, to publish it.
This discussion may, of course, become moot once we see the quality of what's on offer. The early evidence from those who have read The Original of Laura (under legally binding conditions of extreme secrecy) is that it's a tantalising, even disappointing, early draft. Not Lolita, and certainly not Pale Fire, Nabokov's other masterpiece.
Nabokov scholars are going to have a field day, but the common reader may well wonder what all the fuss has been about. We shall see. Roll on publication day.