Complete article at following URL:
http://www.huffingtonpost.com/thomas-gladysz/dear-stinkpot-letters-fro_b_759990.html



Posted: October 13, 2010 06:22 PM


Dear Stinkpot: Letters from Louise Brooks by Jan Wahl

The George Eastman House in Rochester, New York announced last week that they have unsealed the journals of actress Louise Brooks. The actress kept journals from 1956 until her death in 1985. According to an Eastman House archivist, there are 29 journals with approximately 2000 pages of hand-written text. She bequeathed them to the photography and film museum with instructions they remain sealed for 25 years.

[ ... ]

Wahl met Brooks in 1957. At the time, he was a poor graduate student and aspiring writer. Brooks, nearly twice his age, was then a mostly forgotten silent film star. The aspiring writer and the forgotten actress struck up an intense friendship, as well as a correspondence that spanned more than two decades. What drew them together was the desire to write.

The craft of writing, as well as books, authors, and the actress' current reading, are the dominant theme in Dear Stinkpot. There are, for instance, a handful of letters regarding Vladimir Nabokov. Wahl had taken classes with the Russian émigré at Cornell University and was an advocate of his fiction, including Lolita.

At the time, Brooks was working on a never published essay titled "Girl Child in Films." The actress read Nabokov's then (in)famous novel -- and disliked it, at first. Eventually, however, Brooks changed her mind about "Naby's" fiction. She came to appreciate his use of language and sense of satire. Brooks even hoped Wahl might be able to pass along to Nabokov her 1951 autobiographical short story, "Naked on My Goat." Brooks described it as her own version of Lolita.

As with Nabokov, Brooks at first disliked then came to appreciate the work of another contemporary writer. "The dialogue in Beckett is marvelous," she would write in one letter. Other writers, including Hemingway, take her punches, as would F. Scott Fitzgerald for other reasons. There is admiration for earlier authors like Thackery and Dickens. There are gossipy anecdotes about the Algonquin Roundtable writers who hung out in her Ziegfeld Follies dressing room. And there is a consideration of Leslie Fiedler's once seminal Love and Death in the American Novel.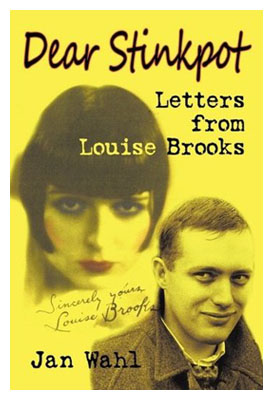 Despite a continuous exchange of letters, it wasn't easy being Brooks' friend. (Elsewhere, she once famously wrote, "I have a gift for enraging people, but if I ever bore you, it'll be with a knife.") And here she admits, "The MAD AT BROOKS CLUB is a seething kettle."

[ ... ]

Thomas Gladysz is an arts journalist and author. His interview with Allen Ginsberg on the subject of photography is included in Sarah Greenough's "Beat Memories: The Photographs of Allen Ginsberg" (National Gallery of Art, 2010). And recently, he wrote the introduction to the Louise Brooks edition of Margarete Bohme's classic novel, "The Diary of a Lost Girl" (PandorasBox Press, 2010). More at www.thomasgladysz.com.